Aerodyne's Review of the Year 2022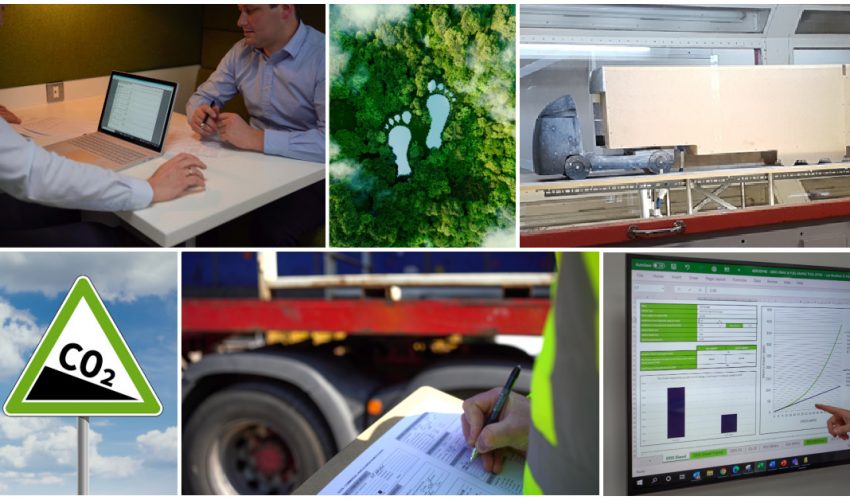 How it all began…
January 2022 started with the warmest New Year's Day on record and, although this didn't lead directly to the idea, we were blogging about how it was still possible to achieve good aerodynamic performance on refrigerated trucks, even with their special access requirements. 
Covid was still impacting day-to-day life and caused a delay in HGV Theory Tests. The additional disruption caused by Brexit meant the HGV driver shortage continued. In the papers, news broke around shortages of fuel and prices were creeping up… 
The terrible trio of Storm Dudley, Eunice and Franklin graced us during February, but it wasn't just the weather causing uproar, as oil prices exceeded $100 per barrel for the first time since 2014 in a direct response to Russia's invasion of Ukraine. 
On the blog, we were discussing Tesco's announcement regarding the use of fully-electric artic trucks for distribution (the first commercial organisation in the UK to do so) and also sharing 'Aerodyne 101' giving our audience a lesson in truck aerodynamics. 
Lead times for new trucks were starting to cause issues in the industry, albeit driver numbers were starting to stabilise.  
Although Volvo claimed the lead share of the electric truck market, with a 42% share, and Aberdeen celebrated the first hydrogen-fuelled waste truck, we knew a huge proportion of the industry would be working with traditionally fuelled vehicles for some time to come. We helped people to understand the savings that are on the table with good use of aerodynamics by explaining how we test the performance of our products. 
In March, against a backdrop of rising interest rates and inflation, Chancellor Rishi Sunak announces a cut in fuel duty as part of his Spring statement. Our blog, 5 reasons for a focus on fuel prices looked at the pressure being faced by fleet managers and the logistics industry as a whole. 
The silver lining – the amazing results yielded by our trailer aerodynamics – accompanied an update on our own journey from entrepreneurs to expert advisors. Swedish-based Volta trucks entered the electric haulage market as there was talk of possible rationing of diesel with prices set to rise to £3 per litre. 
New growth for Spring?
April arrived with a shower of price increases, especially in the energy market.  
The government announced their new energy strategy, which included a plan for 8 new nuclear reactors and a goal of 95% of the UK's electricity coming from low carbon sources by 2030. At Aerodyne, we were sticking with the science on our May blog, as well as sharing how our 3-step design process incorporates science and data into what we do. 
Calls were made to EU member states to agree targets for electric charging and hydrogen refuelling infrastructure as the Met Office warns that the probability of global average temperatures reaching 1.5°c above pre-industrial levels over the next 5 years is now almost 50:50 
At the start of what turns out to be a long, hot summer we celebrate the Jubilee in the UK. Traditions and values are a great basis for a business too and we celebrate Aerodyne's history with a blog about our own family values. 
Petrol rises by 2p per litre in just a day – the largest daily jump in 17 years. Our solution to these high fuel costs? Aerodynamics. 
The heat of the moment
With interest rates, inflation, hospital waiting lists and the daily temperature all rising rapidly, we're keeping our cool at Aerodyne by future proofing our sideskirts ready for new CO2 reduction targets. 
With everything from the temperature to government resignations rising, we're helping customers to keep their fuel costs and carbon footprints low by explaining how CFD testing works. 
England win the UEFA Women's Euro 2022 in a first major football victory for the nation since 1966. 
Elsewhere the heat continues to rise, with temperatures nudging 40°c and food joining energy in unprecedented price hikes. One thing that isn't increasing is the fuel costs of clients using our latest self-adjusting aerodynamic solution. Our blog explains how every 200mm of exposed trailer front costs 3% in fuel and how you can remove this additional cost from your operations. 
Autumn: a time for reflection
It's the saddest September for many years as we lose our Queen, Elizabeth II, and a period of mourning begins. 
Political turbulence impacts the economy and costs are still rising, with road transport prices reported to have risen for the sixth consecutive month. Our case study discusses the work we did with Waitrose to help them work towards achieving their fleet sustainability strategy and we also share an update on how truck manufacturers can reduce emissions fines with expert aerodynamics. 
Amid reports that only half of commercial fleets have a strategy for net zero transport, we discuss how aerodynamics are still applicable to electric vehicles, and even drive significant results on urban, short-haul vehicles. 
COP27 served to remind us all that time is of the essence when it comes to working towards carbon zero targets. 
---
While we may hope for a more settled 2023, there's no time to ease up on progress towards decarbonisation. For Aerodyne, this means more innovation, continued testing and collaborating with more clients to achieve every saving we can, both in fuel costs and carbon footprint. 
With that said, we wish you all seasons greetings and a prosperous and sustainable New Year.