A new dawn for commercial truck fleets?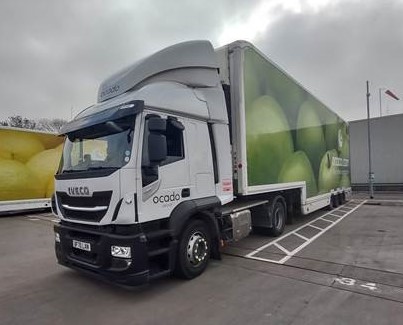 As dawn breaks on 2022, so does the news that Tesco will be the first commercial organisation in the UK to use fully-electric artic trucks for distribution. 
Two 37-tonne lorries will be used to transport goods between a rail freight terminal and Tesco's distribution centre in Wales. It's a sign that the race to achieve the COP26 target of all goods vehicles being zero emissions by 2035 is on. 
However, replacing vehicles isn't going to be an immediate option for the majority of business fleets. And nor is there a sustainable alternative just yet. However, there are other ways to start building savings – both in terms of fuel costs and environmental footprint – with immediate effect and without busting the budget. 
Let us tell you a story.
According to a report by the International Energy Agency (IAC), the humble SUV was the 2nd largest contributor to the increase in global carbon emissions throughout the period 2010-2018. They were ahead of heavy industry, aviation and shipping. If their drivers were a nation, they'd be the 7th largest contributor to climate damage in the world. 
So why are we telling you this? Well, those boxy family vehicles have a lot in common with trucks because they are far from aerodynamic which is the why they are such an enemy to the environment. Aside from that, it's really a numbers game. They rank poorly because there are circa 5 million SUVs in the UK alone. They are heavy, large, with poor aerodynamics. Remind you of anything? This underlines that, whatever the size of vehicle, aerodynamics play a considerable role in easing emissions. However, the government will get better results by targeting commercial businesses than they will penalising consumers and are therefore focusing their targets on freight transport. 
Let's get back to the point: we know the transport sector ranks highly when it comes to emissions and, to quote current UN Secretary General António Gutteres, "All stakeholders have a role to play, from individuals changing their travel habits, to businesses transforming their carbon footprint." 
So, what's the plan? 
Changes are going to be needed at a strategic level to be significant enough and the first step could be to look at the existing fleet with a view to maximising savings with minimal investment. The focus here is on driving out sufficient savings to justify running the fleet to the end of its life which, in turn, gives alternative fuels and other engineering solutions a chance to progress further. 
The great thing about focusing on maximising the savings available from your existing fleet is that you have on investing in new technology before it's been thoroughly tried and tested. We are able to retrofit most of our products to older vehicles so there's no need to worry about new transport just yet. 
We have a handy calculator on our website to help you understand your potential fuel savings. Of course, these go hand-in-hand with carbon emissions savings; less drag means less fuel is used, less fuel purchased saves you money and saves the environment AND reduces your company's overall environmental footprint. 
The evidence
We've worked with the managers of several large fleets in the past and results have been conclusive: 
Ocado have achieved an additional 7.2% fuel saving by continuing to work on their aerodynamics with us;

 

Reynolds Catering achieved an incredible 20% saving on fuel costs by fitting our products to their fleet of smaller 3.5 tonne sprinters. Interestingly, their size means these vehicles use almost all their engine power overcoming aerodynamic drag;

 

Our work with Tesco and Cambridge University on their double-decker trailers yielded a 2.1% saving in fuel;

 

Good aerodynamics also impact positively on a vehicle's range. Diesel lasts longer and will go further if the vehicle is meeting less resistance. The same will be true of electric vehicles who will, of course, need to consider range carefully. Our aerodynamics kits did just this when we fitted them to the new Fuso eCanter and tested them on Millbrook Proving Ground.

 
Fitting aerodynamic solutions to old or new fleet vehicles is worth considering and many see their investment returned in as few as 6 to 12 months. Add to this our long-term client relationships and you can see how regular reviews and updating of the latest technology means the solution grows and evolves with the business. 
So, as Fleet Manager or Environmental Officer within a business, ask yourself what you are doing to help this cause and get in touch if you think you need more advice and guidance on maximising performance and minimising cost, emissions and barriers to advancing your fleet.