Applying the science to Waitrose' fleet sustainability strategy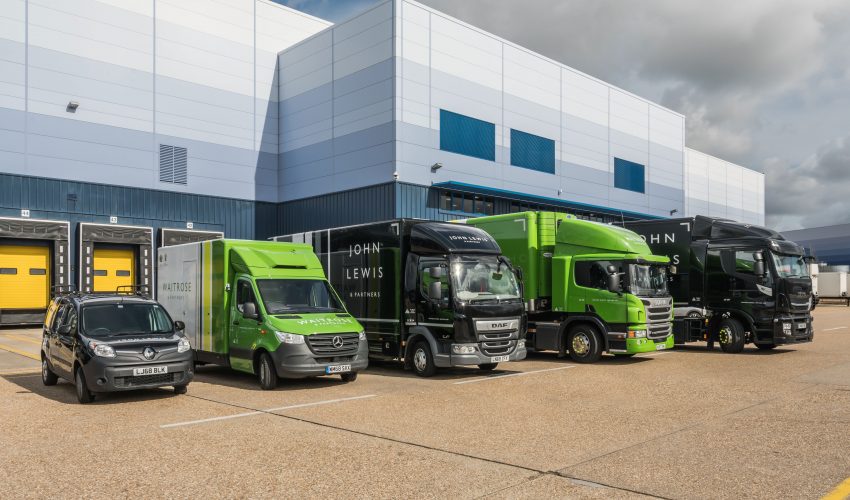 "Their scientific approach shows that Aerodyne are a credible and reliable trusted advisor." 
They are already one of the UK's best-loved and trusted brands, and Waitrose have been making great strides in their approach to sustainability and reducing their carbon footprint. Aerodyne is proud to have a long-standing business relationship with Waitrose to work towards this ambitious target. We spoke to Waitrose Fleet Engineer, David Wake, to find out more about their plans for the future. 
The Challenge
Waitrose has pledged to end the use of fossil fuels across their entire transport fleet by 2030, a commitment which is estimated to save 70,000 tones of CO2 every year.  
Within this, they are related commitments, including a drive for their heavy vehicle fleet to be operating on biomethane fuel by 2028, and for the business as a whole to become net zero by 2035. David Wake, Fleet Engineer at Waitrose said "This 2030 commitment of being fossil fuel free is going to be challenging because there are so many elements to consider. We have many different vehicle types and hundreds of different journey requirements. It's going to be hard, fast and aggressive as we get closer to 2030.  
But there isn't an abundance of energy in the UK and we're not a sustainable country, so we should be using the least amount of energy both from a cost perspective and also from a moral standpoint. 
Aerodyne play a big part in making sure that our existing and future fleets can be as energy efficient as possible whether that's through minimising fuel usage or maximising range."
The Plans
The retailer plans to operate electric cars, vans and light trucks on shorter, local journeys, and will switch to biomethane-fueled vehicles by 2028 for their long-distance heavy trucks where electric isn't feasible. For their heavy distribution fleet, Waitrose and the wider John Lewis fleet have been working with Aerodyne for a considerable time to ensure their vehicles are as fuel efficient as possible and see this continuing for the alternative fuel trucks too.
David explains, "We work with Aerodyne – particularly using their side skirts and spoilers, and roof spoilers on the commercial vehicles – because there is science and data behind everything they do. If you're going to spend money on an automated air spoiler you have to justify that cost and make sure there are fuel saving benefits and cost reduction associated with it, and that's exactly what Aerodyne does. They have done the research to prove the business case behind investing in each of their products. But they are also proactive and always looking to innovate." 
Innovation is critical when commitments are so stringent, and relatively short-term, when you consider the life-cycle of the average heavy goods vehicle. With sustainability at the core of everything we do, we are therefore investigating the opportunity to drive down how much CO2 is used in the production of our vehicle components.  
We also plan to revise our materials as well as our manufacturing processes accordingly. With clients like Waitrose, this is critical added value as they need to report on any and all CO2 content related to their fleet – our work in this area will contribute directly towards their goal of being net zero by 2035. 
The Research
Waitrose are one of the leading brands when it comes to sustainability. They have known for a long time that electric vehicles must form a part of their solution, but knew they'd need extensive research to get credible vehicles that would suit their huge operation, and that the current electrical vans available don't suit their business model and requirements.  
Whilst parcel delivery firms have been able to make a quick switch to electric vehicles because they have a high drop density and low daily mileage and speeds (aerodynamic benefit only kicks in above 15mph), supermarkets have bigger distances to travel and consume additional energy to power the fridges necessary on their vehicles.  It means their switch to an electric fleet has had to be more considered, and Waitrose will be working with Aerodyne as a trusted advisor in this development.  
The first thing Waitrose did when making the switch from a largely diesel fleet to electric was to look at their entire business estate because operating a large electric fleet requires a lot more infrastructure in addition to the vehicles themselves.  
Then they assessed their fuel data, looking at their depots and each individual vehicle to see what their daily diesel consumption was. From this, they worked out the equivalent electricity they would need to power their fleet.  With an estate of about 350 buildings, they could then understand the scale of the project to fit the right charging capability.  The intricacies of achieving environmental commitments in the transport and haulage industries are considerable. It's for this reason that we value working collaboratively with our clients to ensure we can address every nuance within their fleet and logistics plans.  
We finished by asking David what he thought of the way Aerodyne approaches their work. 
"Aerodyne constantly come up with new solutions and new ideas. They don't just produce stuff that fits and does the job. Instead, everything they do is led by science, data and research, which means they are credible and have the numbers to back up what they are producing. This approach also means they are continually trying new perspectives and removing points of failure. We look forward to continuing to work towards our sustainability commitments with them as part of the team." 
Image credit: https://www.johnlewispartnership.media/imagelibrary/jlp/details/149513