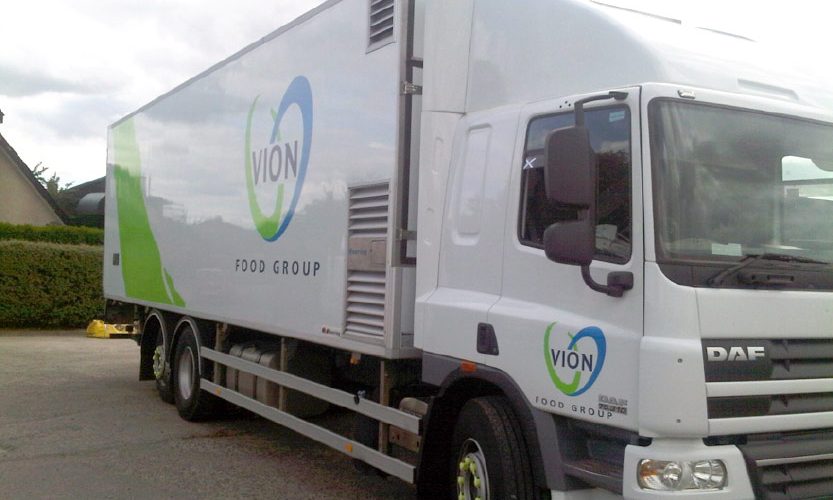 Aerodyne Equipment was asked to come up with an aerodynamic solution to lower-than desired mpg figures that Vion Foods were suffering from their DAF CF Sleepers, both  tractor and rigid. The challenge was that, along with their other food and agriculture interests, Vion operate chick hatcheries, and temperature control is vital when the day-old chicks are being transported by road. They must get neither too cold nor too hot. Accordingly, air flow to the fronts of the bodies and trailers is critical to their survival.
This requirement might seem to conflict with the need to deflect air away from the body fronts with an efficient air management kit. Aerodyne came up with an aerodynamic solution including an adjustable centre flap in the cab-top 3D fairing, so that Vion could experiment with the flap in various positions and achieve a good balance of improved fuel economy and welfare of the live chick cargo.
Following fitment and successful operation of the vehicles with the new air kits from Aerodyne, Vion reported a 1.1mpg improvement on the rigids, from about 9.2 to 10.3 mpg, a 10.7% fuel saving. Another comment was that the 'Tractor unit is even better, climbs hills easier and doesn't feel like driving a brick wall'. Results subsequently reported were an improvement on the Tractor from 7.7mpg to 8.8mpg, a 12.5% fuel saving.  Vion Foods found a satisfactory setting for the adjustable flaps too, so that chick welfare was unharmed.
| | | | |
| --- | --- | --- | --- |
| Vehicle Type | MPG Before | MPG After | Fuel Saving (%) |
| DAF CF Sleeper Rigid 6 x 2 | 9.2 | 10.3 | 10.7% |
| DAF CF Sleeper Artic | 7.7 | 8.8 | 12.5% |