Aerodyne helps Reynolds Catering save over 20% of fuel costs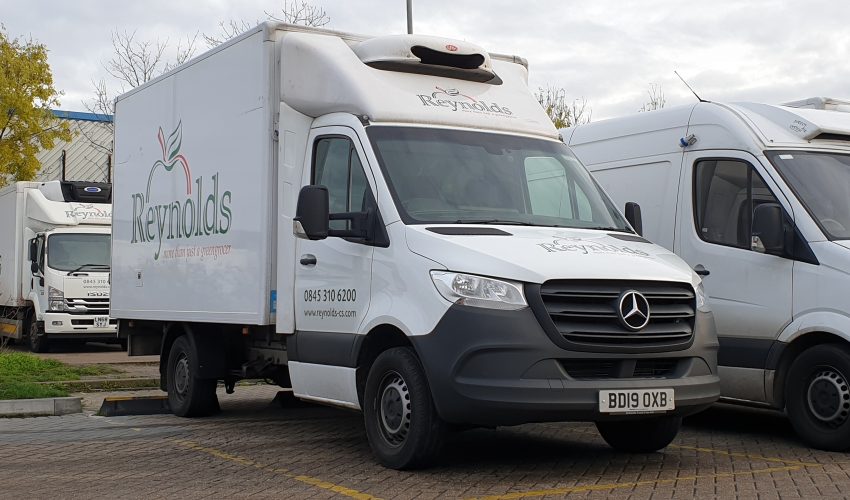 Reynolds is one of the leading fresh fruit and veg suppliers and  wholesalers to the UK foodservice industry and catering industry. As a family owned business, Reynolds provides more than 3,000 different types of fresh produce and chilled foods from around the world, including more than 1,000 different varieties of fruit and vegetables.
In 2019 Reynolds purchased five Mercedes Sprinter refrigerated box vans and checked the average fleet MPG over a period of weeks, at this stage no Airkit was fitted.  Aerodyne then supplied five cab roof deflector and sidewing kits (modified to fit around the fridge).  Once these had been fitted, the average fleet MPG over a number weeks was again checked though the telematics with the Airkits providing a fuel-saving of over 20%!
Due to 3.5 tonners being a light-weight vehicle, most of the engine power is consumed overcoming aerodynamic drag.  This means an improvement to the aerodynamic shape of the vehicle will see strong fuel-saving even at lower speeds.
"We were amazed at Aerodyne's Airkit producing over 20% fuel-saving – they've opened further fuel-saving opportunities for Reynolds, helping us to meet our environmental goals"
Steve  White
Head of National Fleet – Reynolds Catering