What our clients have to say...
At Aerodyne, we build long term relationships with our clients by providing great fuel-saving solutions and customer service,
read on to find out more…
---
Watch the video here
Lloyd Bonson, Consultant, ECV Consulting
---
I have followed Aerodyne's work over the years and have always been impressed with their ability to blend theory with practice. Good quality products, well finished, easy to fit and demonstrably effective in their application. I consider the honesty and integrity with which the whole team operates to be a real asset, coupled with their competence and understanding of the impact of aerodynamics on the environment.
Lionel Curtis C.Eng. FIMechE
Director, Clairvaux Ltd
Lionel Curtis, C.Eng. FIMechE, Director, Clairvaux Ltd
---
"Whilst working with Aerodyne, we have found them to have an interesting and innovative approach to truck aerodynamics. They are experts in their field, with an understanding of science and ability to apply this practically to commercial vehicles. Collaborating with industry leaders such as Aerodyne is a key move for us at Howard Tenens as we strive to reduce fuel costs and deliver on our environmental goals"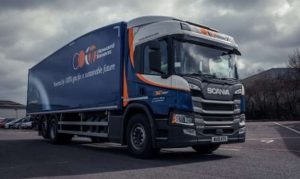 Alan Pellow, National Fleet and Compliance Manager, Howard Tenens
---
"Aerodyne have supported Travis Perkins over recent years providing aerodynamic solutions for our fleet of rigid trucks. They have worked closely with our chosen bodybuilders to develop solutions that are operationally effective and aerodynamically efficient. Their knowledge and expertise in truck aerodynamics has assisted us in reducing our Co2 footprint, whilst saving fuel costs too.  I would recommend them as experts in their field to other fleet operators looking to reduce Co2 and save fuel"
 
James Taylor
Central Fleet Manager, Group Transport.
Travis Perkins plc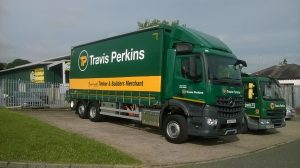 Experts in reducing Co2 and saving fuel…
---
Ocado Group tested AEROMATIC versus Fixed-Height Airkits over a 4 month period, with results showing a 7.2% improvement in fuel efficiency.  This is an excellent outcome – saving further fuel costs, increasing the CNG range of the trucks and most importantly helping us to meet our environmental goals.
Graham Thomas, Fleet Services Manager, Ocado
---
Tradebe Healthcare run a very special operation which requires extremely high rigid bodied commercial vehicles to be run. To get the aerodynamics looking right, but still operationally cost effective was a challenge that Aerodyne helped us to overcome and we are very happy with the solution. The cab is now much easier to tilt allowing ease for maintenance reducing the likelihood of any health and safety issues.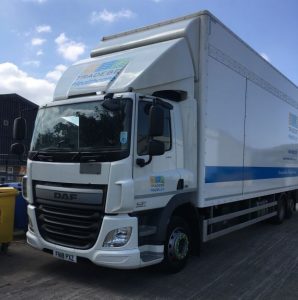 Neil Venturelli-Stedman, National Transport Manager, Tradebe Healthcare
---
Aerodyne are a fantastic company to deal with. I got them to fit aerodynamics to one of my vehicles, they offer a great fitting and quick service as well as a great range of aerodynamics.  After fitting I had the particular vehicle for another 3 years and the deflector served very well and always looked and performed well!  We monitored range, and per tank the fuel and consumption improvement was amazing.  An extra 38 miles per tank fill, added up over a year that's a serious saving!
Ian – Merlin Logistics – http://merlinlogistics.co.uk/

Ian Bird, Managing Director, Merlin Logistics
---
Aerodyne supplied the air management kits for a large number of box vans Wessex built for a well-known technology company.  The builds were date critical and they exceeded our expectations, delivering the air kits within the agreed schedule."
Alex Watson, Wessex Vehicle Services, Sales Director
---
Aerodyne produce a good quality product, for a good price with a brilliant service. We have worked together on a number of projects and they have helped us produce some fantastic looking vehicles.
Rob Bevan, Purchasing Manager, Bevan Group
---
Don-Bur provide many aerodynamic solutions and often use kits to enhance streamlined designs.  Aerodyne air kits fit well, come complete with good fixings and are of a high standard.
Richard Owens, Marketing Manager, Don Bur
---
Aerodyne's creative design and technical skills are leading edge and they are great people to work with.
James Taylor, Sales Director, Maxi-Low (UK) Ltd
---
Aerodyne's bespoke Air management kit has really enhanced our fleet image.
Chris Cox, Managing Director, Midland Bacon Co
---
Alltruck PLC partnered with Aerodyne Global Ltd from the initial design of the concept through to development and manufacturing.
The finished result exceeded our expectations and their service was excellent – a true turnkey supplier.
David Halliday, General Manager, Alltruck Plc
---
Fuel-saving and design were key for our client, and Aerodyne developed a bespoke Airkit with an end result that exceeded our expectations.
Tony Biddlestone, Account Manager, Keltruck Ltd
---
Aerodyne have a very wide range of fuel-saving aerodynamics and great technical backup
Greg Heller, Purchasing, Solent Bodybuilders
---
With many of our corporate clients highly concerned about their own corporate responsibility it is vitally important for us to achieve our own goals around sustainability – and of course to partner with the right company when it comes to the aerodynamics on our vehicles. We chose Aerodyne because we knew that they could provide us with the most aerodynamic solution for our fleet.
Ken Crawshaw, Managing Director, Avena
---
It fitted a treat. We have now completed the full repair to the vehicle and it has now gone back to the customer who is very happy.
John – CEM Scotland Ltd
---
350 READY TO GO PRODUCTS AVAILABLE
Aerodyne have the largest range of product options on the market to suit most vehicle makes and models and varying body / trailer dimensions.
BESPOKE CAD DESIGN FACILITIES
Leading edge 2D & 3D CAD design resources are available to assist you in designing your vehicles to achieve the best aerodynamics possible.
HAPPY CLIENTS AROUND THE WORLD
Since 1979, we have been supplying products into many different countries around the globe, supported by international shipping solutions to ensure the goods arrive safely and on time.