An interview with Lionel Curtis: Why greener transport must be more than just a footprint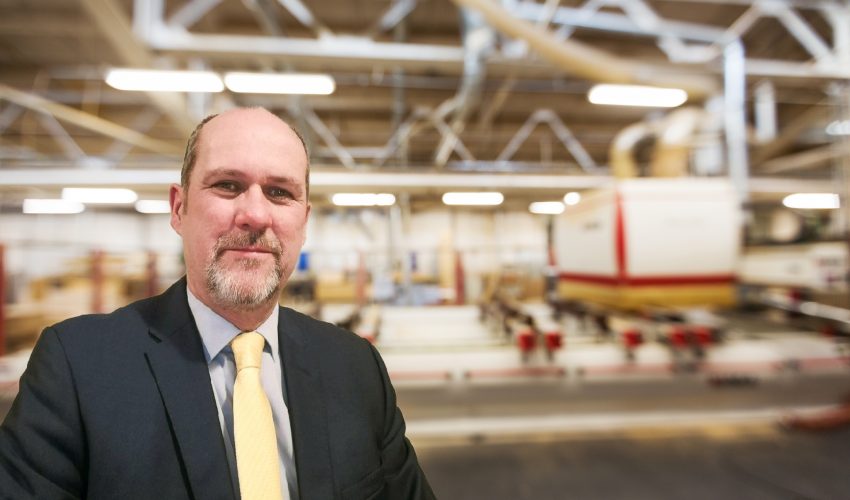 With an impressive 40 years' experience in the sector, there's not much Lionel Curtis doesn't know about transport and its impact on the environment. What might be surprising is that the issue of the sector's carbon footprint has always been on the agenda. Real traction – in terms of broader, more strategic thinking – may have only been happening over the past few years but Lionel has been involved in many projects during his career to date aimed at searching for a cleaner, greener solution.
He worked on the first hybrid vehicle to be featured on Top Gear in 1991, helped design and develop double-decker trailers (putting the UK in a leading position as regards efficiencies in 'air space') and, more recently of course, has joined Aerodyne as our Head of Engineering.
How did you first become involved in the truck industry?
My involvement in engineering started early with an apprenticeship at the MoD. I was a tool maker and then spent several years in design offices learning my trade. That led to a scholarship for Cranfield where I eventually graduated in Automotive Engineering.
I've since worked on projects related to design, manufacture, and service of hybrid and electric vehicles as well as commercial vehicles and plant, and been Chair of the Trailer & Bodywork Technical Committee at the Society of Motor Manufacturers and Traders (SMMT).
What do you see as today's greatest challenge for transport?
To solve transport's carbon issues, we need to think about much more than just the vehicles. We need to get right back to basics on the whole concept of logistics. Without being too clichéd, we don't need to reinvent the wheel – we have good wheels. We need to reinvent points A and B, between which we are transporting goods.
Some solutions are already out there, at least in part. Introducing a point between A and B – a consolidation centre or distribution hub, for example, will alleviate the constraints of electric delivery vehicles. It's about taking the time to consider what we want to do with our transport. Where can we utilise different methods – electric only delivery, even robot delivery – and where do we need tyres on the road?
Range is always going to be the biggest fear when it comes to alternative fuels, especially electricity. How far can new, heavier, and potentially less efficient (in terms of load space) trucks travel without
needing fuel or charging? That's one of the reasons I'm inspired by Aerodyne – what they manufacture and fit could be the difference that makes the difference when it comes to range.
Back in the day, I was lucky enough to take part in a DTI technical mission, as they called it, investigating electric and hybrid transport projects in the US and Canada. At the time – and we're talking a good 20 years ago, they talked of needing a 'paradigm shift.' I've heard the same thing recently which would be worrying but for the fact that I know a lot of good strategising has been done and progress has clearly been made on alternatives to diesel fuel.
It does show there's still thinking to be done outside of the box, though, and this is a message that can be lost when we tune into the hype that surrounds government promises and media coverage.
So, it's not just about emissions then?
Emissions are the most tangible thing we have, which is probably why we focus on them. They can be measured but really they're just the outcome at the end of a process that's not changed for years. What if we started considering the logic of how our transport system works as a whole?
Let's say every fleet looked at making the best use of what's available to them. What sort of change could this add up to? For example, tyres.
Traditionally, tyres have been reconditioned to be as efficient as possible for as long as possible. But it might be better in future to spend more on a higher quality tyre in the first place, because doing so saves us 3% on fuel costs, or gives us an extra 3% in range.
Then consider aerodynamics. With Aerodyne's skirt and cab deflectors, you might find another 3% for each. That's 6% more range, making 9% in total. That's starting to add up now.
If every company with a fleet did this, for all their vehicles, we'd see an impact worth reporting on. But I think we're only just getting to the mindset that just because something isn't ground-breaking, it's still worth doing. I spent quite a few years living in Scotland. There's an old proverb which says "many a mickle makes a muckle" which holds true. Providing the modellers have one eye on the return on investment, this is not a bad motto to live by.
You mention modellers – is the secret in a spreadsheet somewhere?
Well, to a degree, yes. I believe the solution has moved on from being a fleet manager's problem. It's such a complex equation with so many variables, it needs collaboration from all areas of the business. Proper thought needs to be given to analysing everything that can be tweaked and redesigned. We need a mindset shift around our whole transport strategy and somewhere in there will be an equation that balances. It might feel like fractions of improvement but if everyone pays attention to it, it'll soon add up.
How would you describe the industry and its relationship with the environment over the years?
When I think of the bigger picture, in terms of the projects I've worked on versus what has come to fruition, I could easily convince myself that nothing much has changed. But really, this is a global conundrum of which transport is one small part. So, even though projects have sometimes taken time to come to fruition, they are all steps in the right direction and each has informed the next step of this journey, in its own way.
Years ago, I worked on a project to build the first electric bus. It took 22 years to eventually become viable; our original version needed a trailer just to carry around all the kit that powered it. It may sound funny but it's this sort of engineering issue that needs solving. Science and technology has advanced so quickly more recently that we can start to propose more viable methods of making the alternative fuels work.
What excites you about your role as Head of Engineering at Aerodyne?
I'm excited to have been invited to work with the trusted advisors in the truck and trailer aerodynamics world.
Having been on the edges of legislative changes that are now coming into action – such as VECTO and Masses & Dimensions changes for aerodynamic devices – this is an exciting opportunity to make the most of applying some design and engineering thought to maximising the impact from these changes. This industry is all about people and I am delighted to be back among the people I respect and have enjoyed working with in the past.
I'm looking forward to some new developments that not only improve the aerodynamics, but solutions which contribute more widely to a sustainable future for road freight.